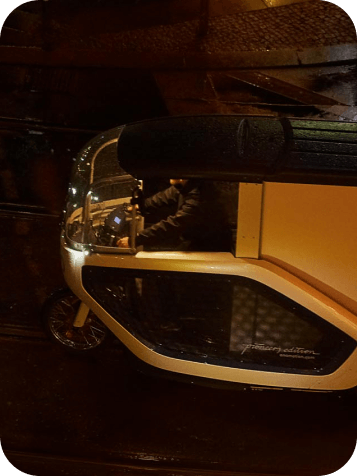 YOUR FLEET FOR EVERY SEASON
WEATHER PROTECTION
The driver cabin's unique design provides reliable protection against rain and wind, 365 days a year.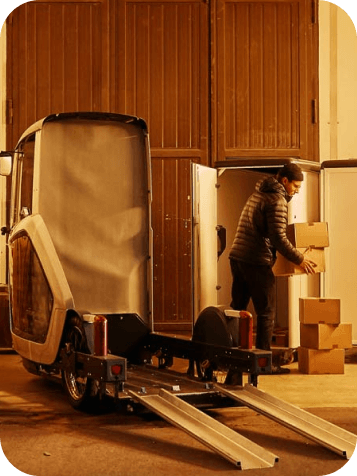 MAKE ROOM! HERE COMES ONO
CONTAINER-MODULE
With a volume capacity of over 2 m³, the container-module really gets things done. And because preparation is everything: the containers can be exchanged flexibly and safely via the integrated ramp.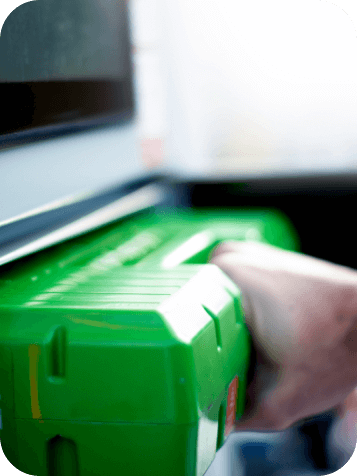 GO THE EXTRA MILE
BATTERY
The 1,4 kWh battery can be replaced within seconds and allows a range of up to 30 km. An optional holder is available for a second battery for a range of up to 60 km without stopping at a battery exchange station. The battery can be replaced at one of the many battery replacement stations of our partner Swobbee.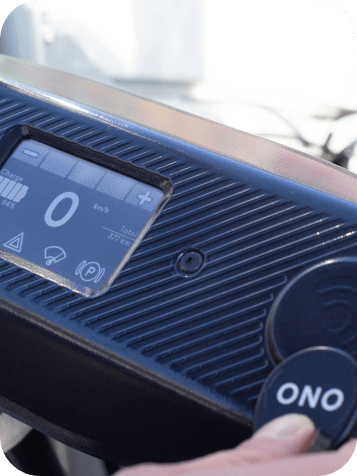 ONE CHIP - FULL ACCESS
SOPHISTICATED ELECTRONICS
Quick and easy operation via RFID chip: lock and unlock the vehicle, open the container doors and disconnect the container from the vehicle.
The ONO Factsheet.
Combining the flexibility of bike and cargo capacity of a van. See for yourself.
Vehicle and Container-Module
Weather protection
Operates 365 days a year, in every weather condition
PEDELEC
Continuous power up to 25 km/h, start- up assistance up to 6 km/h
Flexibility
Interchangeable and customizable container-modules with a payload of 200 kg and a loading volume of over 2 m³
Smart tech
Convenient tracking of vehicles via the GPS and handling via an RFID chip
Data and dimensions
Clear advantages
Use of bike paths
Reach your destination faster by using bicycle facilities without a driver's license
Green energy
Powered by green electricity and a 70% smaller physical footprint
Range
An interchangeable battery system and conveniently changeable batteries for a range of up to 60 km using up to two 1.4 kWh batteries from GreenPack®
Fundable
Promotion of commercial e-cargo bikes with Pedelec 25 e-drive with up to 2,500 € funding by the Federal Ministry for the Environment (BAFA), depending on the federal state it can even be cumulated with municipal state subsidies
Efficient, sustainable and no driver's license required
A more efficient delivery across the last mile
Smaller physical footprint
Flexibly operated with no need for a driver's license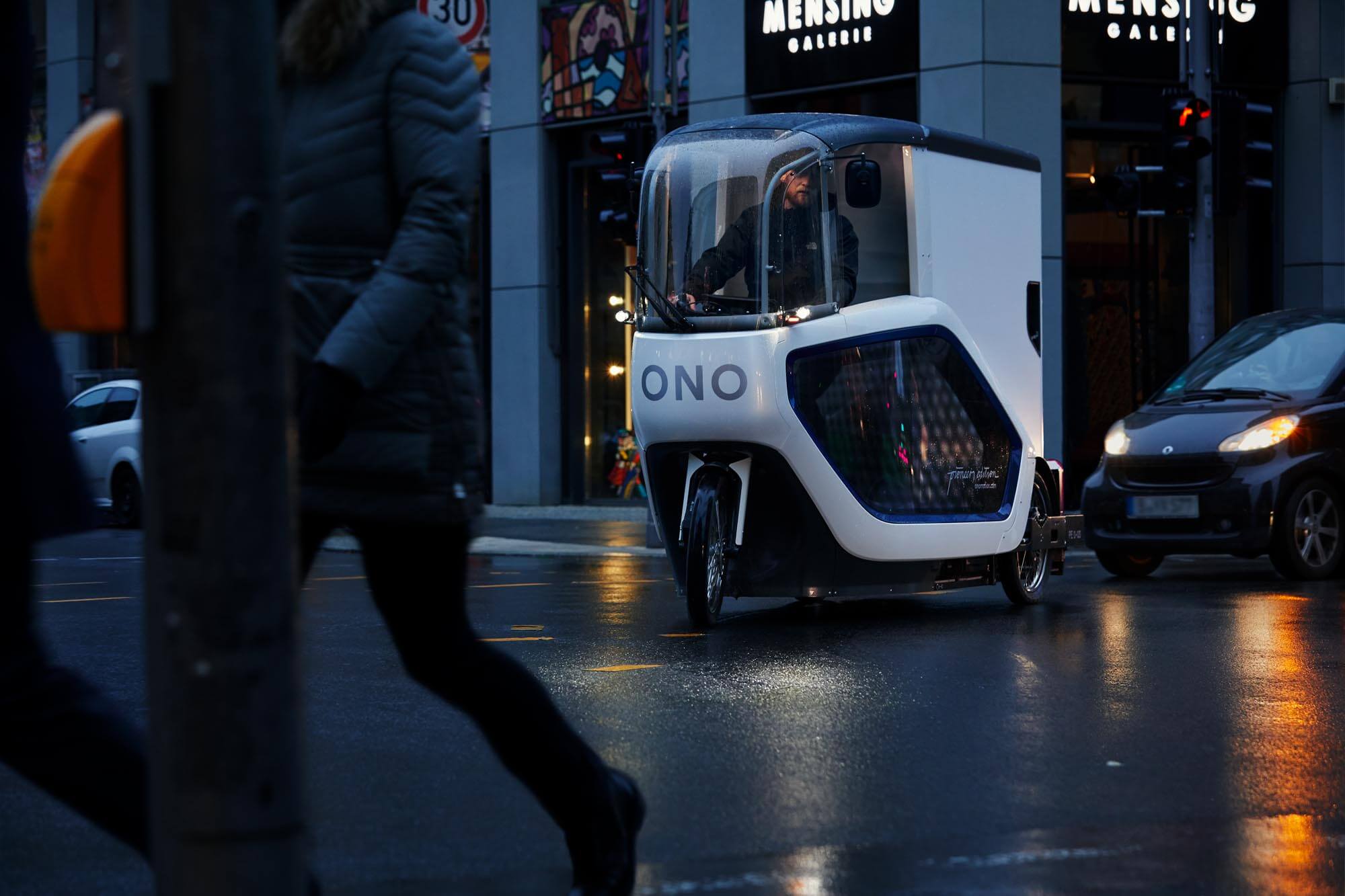 Highest quality and service. Flexible pricing options.
You can rely on us: from production, to supplying spare parts, and maintenance – we are there for you as a purchase model or with our Vehicle-as-a-Service model.  An all-around service of your choice.
Full cost control for your company starting from
589 € / mth.
(net price plus 19% VAT, for a term of 48 months for your ONO incl. container module and service)
Together we create the perfect customized package for your specific needs. We offer various payment options and flexible financing models. Contact us today to discuss your requirements.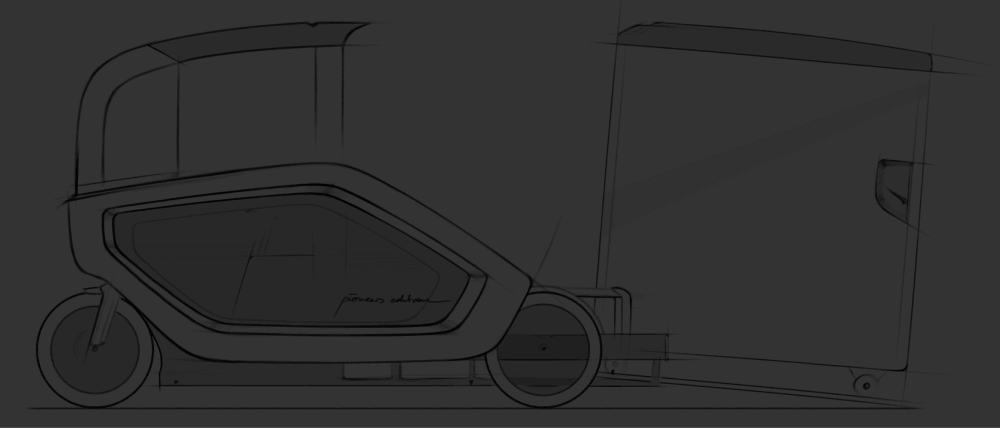 Configure your ONO according to your requirements and wishes now. Choose from different exchangeable modules with numerous options, such as shelves, clothes rail or load securing rails. Add accessories and additional batteries.
Configure your ONO
Meet our customers
The ONO is used by a variety of customers providing Courier Express Parcel (CEP) services. The modularity of the vehicle opens the doors to more industries like Micromobility, eGroceries, Tradesmen, Catering, Pharmaceuticals, Facility Management and Waste Management, just to name a few. Our sales team works closely with customers to develop the perfect solution for multiple applications.