EXCLUSIVE SALES FINANCING PARTNERSHIP FOR ONO E-CARGO BIKES
Schweinfurt-based financial services provider Mercator-Leasing becomes a set premium partner of Berlin-based mobility service provider ONOMOTION to jointly offer innovative, reliable and urban mobility solutions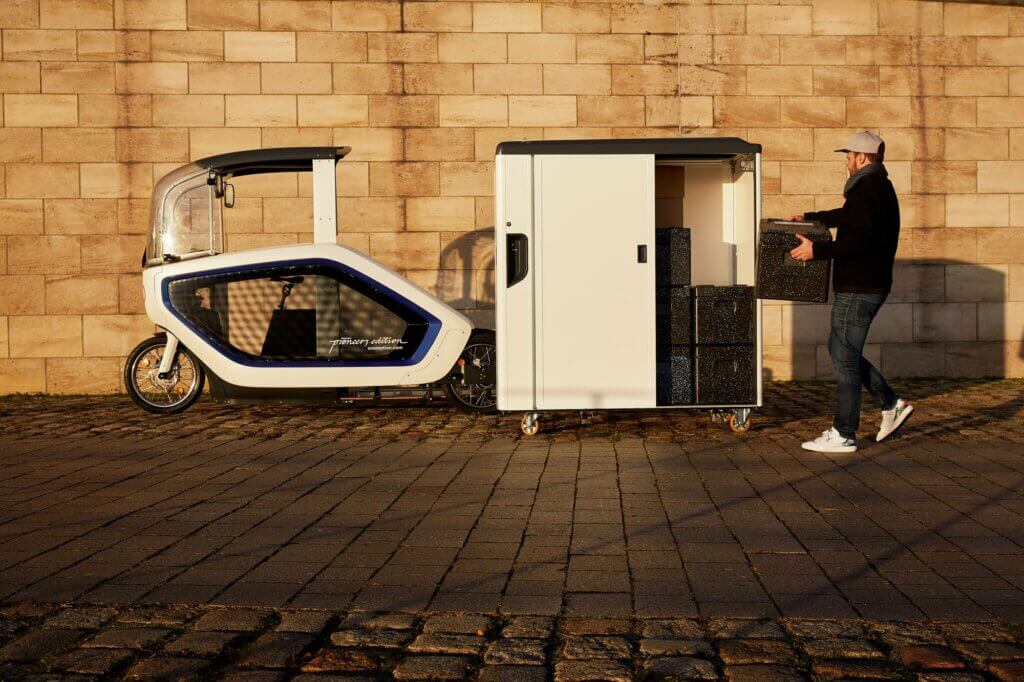 The European mobility service provider ONOMOTION develops and produces high-quality e-cargo bikes that can now be rented by delivery services, public institutions and businesses. In addition to products and services, financial solutions for financing sales in the B2B business are becoming an increasingly important part of the sales strategy. The overall offering, including financing, determines success, competitive edge and customer loyalty.
"With ONOMOTION, we are expanding our portfolio in the e-cargo bike scene and transferring our know-how to the proven managed service contracts. We see an enormous growth market here in inner-city delivery traffic, which represents a particularly sustainable and ecological alternative in urban traffic," says Thomas Weber, Sales Manager at MLF Mercator-Leasing GmbH & Co- Finanz-KG. "We also offer an all-in lease for this product. This allows ONOMOTION, at the request of the customer, in addition to the procurement of the object also service, maintenance, support or e.g. also the consumables in the contract in a rate to integrate and thus an all-round carefree package to offer," continues Weber.
With the ONO E-Cargo Bike, ONOMOTION offers a completely new type of urban vehicle that offers maximum efficiency, maximum driving pleasure and, above all, comfort thanks to its full encapsulation. In addition, it can be used without a driver's license, in any weather and even on bike paths. The interchangeable container offers fast and exible loading capacity, especially for delivery drivers in local traffic. With this cargo bike, ONOMOTION is implementing its vision of a livable and healthy city and new mobility cycles.
The ONO, an electric transporter classified as an e-cargo bike, combines the flexibility of a cargo bike with the loading capacity of a small delivery truck. The ONO can carry a load of up to 200 kg. Equipped with two step-switchable electric motors, two replaceable batteries and a digital fleet management program, the electric bike can cover a distance of up to 60 km. The weather-protected cabin allows Infarm growers to use the bikes year-round. The insulated container modules keep the products fresh during delivery. The ONOs will be deployed from Infarm HQ in Berlin-Tempelhof, where the batteries will also be charged with electricity from renewable sources.
"We are proud to offer our customers Mercator-Leasing as a reliable partner for our Vehicle-as-a-Service, our format of all-in rental contract for the ONO. The previous experience of the cooperation and the feedback from our customers has encouraged us to further expand this partnership," said Beres Seelbach, CEO of ONOMOTION GmbH.
About Mercator-Leasing
Founded in 1991, MLF Mercator-Leasing GmbH & Co. Finanz-KG is a finance company operating throughout Germany with a focus on equipment leasing. For almost 30 years, Mercator-Leasing has stood for innovative and sustainable financing concepts with personal contact partners. Financing solutions such as leasing, renting or hire-purchase for medium-sized companies form the core business. Individual support, fast and unbureaucratic processing – from the first contact to contract changes during the term to the end of the contract – and a personal and comprehensive service are part of the performance and quality standards.
About ONOMOTION GmbH
The European mobility service provider ONOMOTION envisions and develops the urban mobility of the future. ONO's goal is to develop new meaningful solutions to sustainably improve the common good and inspire people worldwide to shape the transformation of urban mobility. ONO empowers its team to design and implement innovative and needed mobility solutions to connect communities, businesses and individuals. ONO is developing a completely new kind of urban vehicle – starting with the ONO E-Cargo Bike, produced with and for customers to achieve maximum efficiency and the highest level of driving pleasure. Founders Beres Seelbach (CEO), Murat Günak (CDO) and Philipp Kahle (CTO) have more than 30 years of combined experience in e-mobility. Seelbach founded his first company "Lautlos durch Deutschland" at the age of 24. Günak is a former chief designer for the Volkswagen Group and co-founded electric vehicle manufacturer mia electric in 2010. Kahle is a light electric vehicle specialist and was already involved with charging infrastructures at the company GreenPack mobile energy solutions. The goal to rethink and redesign urban mobility brought them together and to the foundation of Tretbox GmbH in May 2016 (today ONOMOTION GmbH). The company is headquartered in Berlin with currently 45 employees who share the company's vision and implement it with passion every day.