APCOA makes parking management more sustainable – with e-cargo bikes from ONOMOTION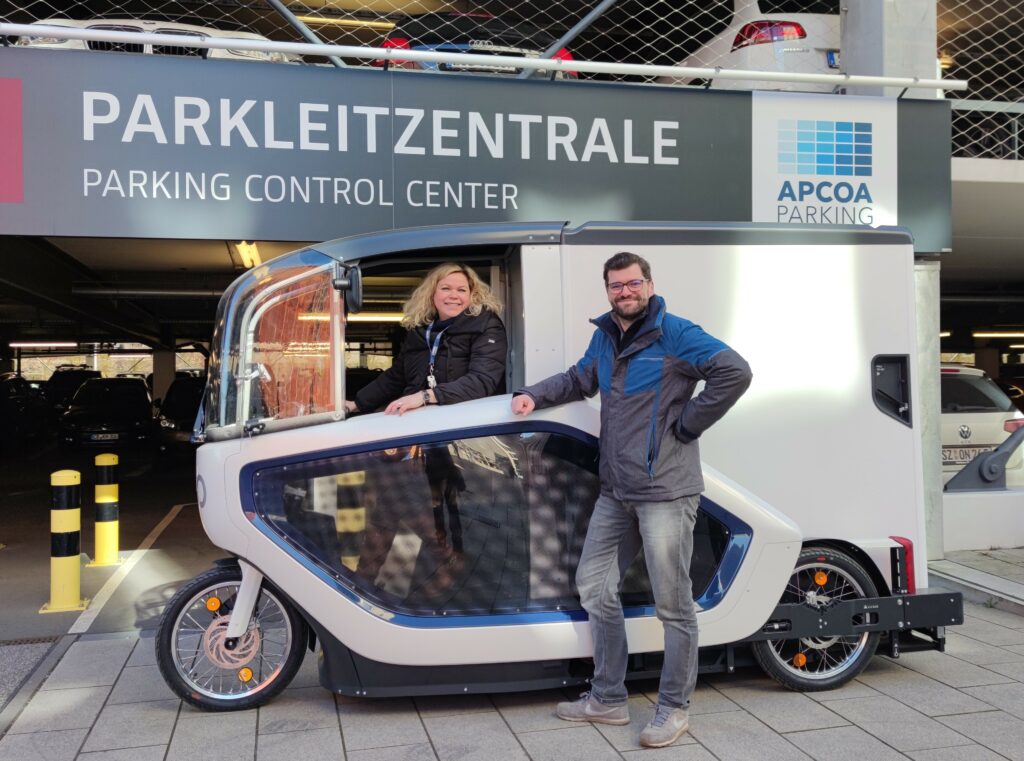 • APCOA replaces cars with environmentally friendly cargo bikes
• E-Cargobikes travel CO2-neutral and efficiently between parking garages
• Handover by ONOMOTION co-CEO today at BER
Stuttgart, March 07, 2022 – APCOA Parking Deutschland is becoming even more sustainable. To this end, the parking garage operator has ordered e-cargo bikes from the manufacturer ONOMOTION, which will be handed over by the management at Berlin Brandenburg Airport (BER) on March 7, 2022. The electronically powered cargo bikes will replace cars at several APCOA locations in Berlin, Munich and Stuttgart and provide efficient and low-emission support for employees on site.
APCOA and ONOMOTION reduce CO2 emissions in major German cities. In the future, e-cargo bikes will be used in the parking garages at BER, Messe München and Messe Stuttgart. The environmentally friendly cargo bikes will transport spare parts and materials between the parking garages at the individual APCOA locations. In Berlin, for example, the cargo bikes travel from one parking garage to different parking garages at BER Airport. The e-bike driver can also take over cash management and, for example, empty the automatic pay stations. Until now, these tasks have been performed by so-called pool cars.
"The advantages are obvious: e-bikes can be ridden without a driver's license and get through traffic quickly. Above all, they are CO2-neutral and protect the climate and the environment. By using e-cargo bikes, we are helping to reduce CO2 emissions and improve the quality of life and air in urban areas," says Anja Müller, Director Operations at APCOA Parking Germany.
Cooperation partners ensure sustainable city logistics
APCOA has been committed to greater sustainability in cities for some time and is also starting to do so within its own company. "With the e-cargobikes, we can reduce CO2 on trips to our parking garages. This not only helps the environment, because at the same time we become more efficient as a company. A win-win situation," says Hansjörg Votteler, Managing Director at APCOA Parking Germany.
The Managing Director of ONOMOTION, Philipp Kahle, adds: "We are pleased that APCOA is using our e-cargobikes operationally. This is a strong sign for more e-mobility and shows the versatile application possibilities for our e-cargo bikes, the ONO."
An expansion of the cooperation with ONOMOTION is planned. APCOA is looking at ways to convert to the environmentally friendly e-cargo bikes at other locations as well. "The concept fits perfectly into our efforts to promote sustainable urban services. To this end, we have established an Urban Hubs network: With our parking spaces, we provide the infrastructure for cooperation partners who use them, for example, as transshipment points for environmentally friendly logistics. This is how we are shaping the parking space of the future," explains Votteler from APCOA.
With partnerships such as ONOMOTION, APCOA is focusing on forward-looking strategies to actively shape the shift toward sustainable city logistics and help improve the quality of life in cities. With its urban hubs network, APCOA provides the physical and digital infrastructure for sustainable urban services. In the field of logistics, this includes not only transshipment points for delivery services but also parcel lockers where customers can pick up deliveries themselves. Other urban hubs services available in APCOA parking garages include charging points for e-vehicles and rental stations for sharing vehicles.
About APCOA
APCOA PARKING Deutschland GmbH is based at Stuttgart Airport and offers its customers more than 230,000 parking spaces at around 300 locations in over 80 cities. The company stands for modern parking management in city centers, at airports, trade fairs, hotels and hospitals throughout Germany. APCOA was named the fairest company 2019 in the parking operator sector by Focus Money.